After the summer school:

New quests for exploration, learning, and creation - becoming bio-eco-memory savvy citizens.
Following the summer school this year, we decided to be covid-wise and create an online resource that makes it possible for anyone to carry out the actions we designed.
We offer you 4 actions to begin with, that will allow you to explore your surroundings and develop your bio- and eco-memory.
[TIP: eco-memory is a term we created here at Pollination Academy. It's related to the more known concept of eco-literacy, only less anthropocentric. In other words: eco-literacy focuses only on the capacities of humans to read their environment. Eco-memory is about all the capacities of an ecosystem to hold information and guide actions. Memory is not only about the past, it's just as much about future possibilities (or lack of those). And it's not human-centered, even though you are of course the human in the center of your outlook on the eco- you inhabit.]
Following up on this, we will be posting new material on our
community site
with the people we were working with last summer: Nikolaj Noel Christensen (birds), Jonas Fritsch (affect-tech), Ida Nicolaisen (mycelia), Mari Regis (abundance)
[TIP: Anyone is free to join the Pollinators community site!
pollinationacademy.mn.co]
We cannot offer you a workshop site for these exercises right now. But we are working on setting up the first dome, and hopefully another four, in the first half of 2022.
In the meantime, feel free to use the material here, to go and explore and train your eco-bio-memory, and to share all of your creative ideas on the pollination community site!
Continue here:
Quests
Read more about the Pollinators' summer school 2021 below.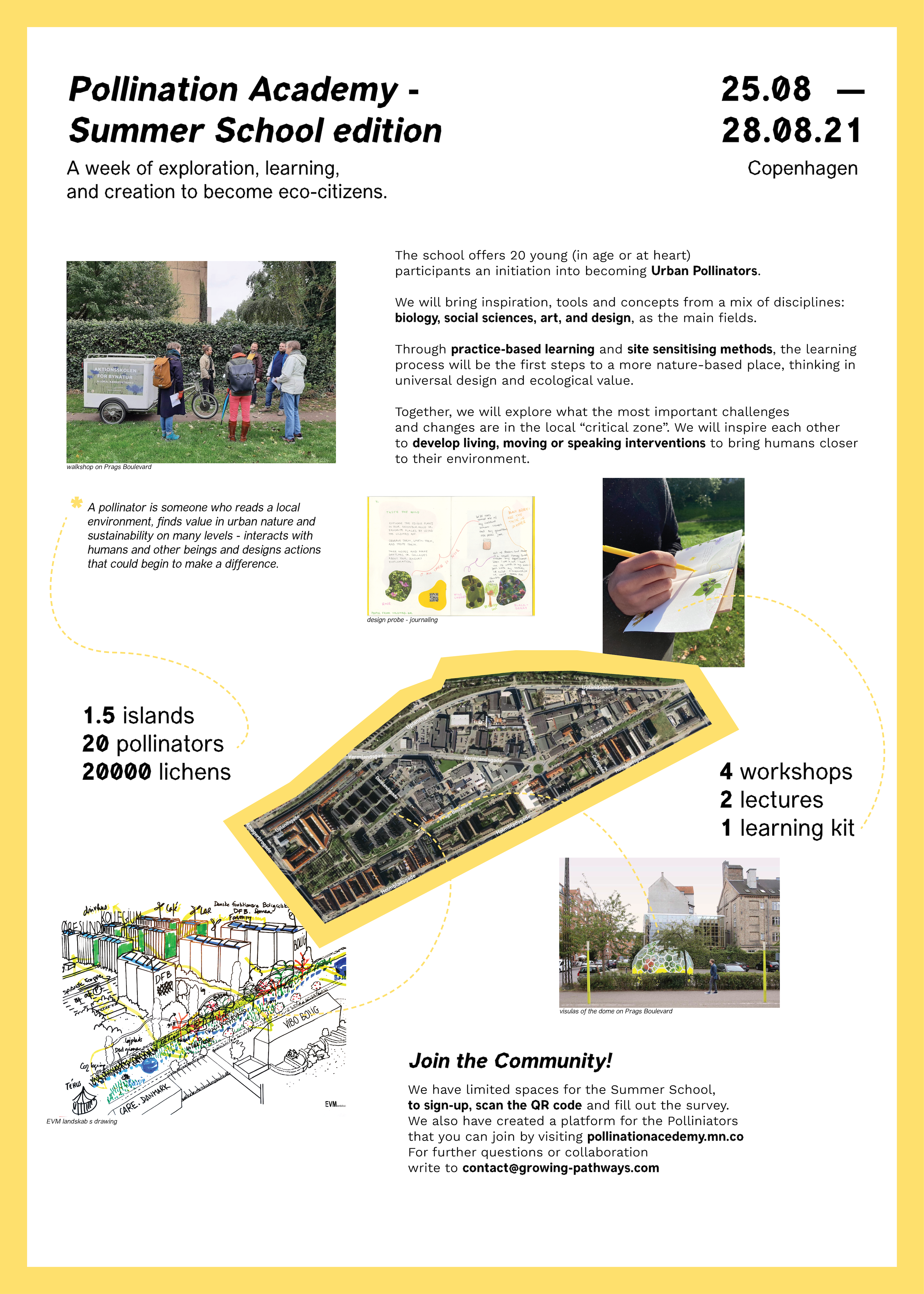 Pollinators' Summer School 2021

We explore, we listen, we learn, and we leave a small positive trace opening up to new possibilities.

We will work with aesthetic eco-practice and site-sensitising, create a nature-based learning space, and dig into questions like: "how do we use universal design?", "what is ecological value?", and "who rules in the critical zone?".

We will explore the most important challenges and changes in the local "critical zone" and inspire each other to develop interventions to bring human citizens closer to their environment.

We will be inspired by partners and trainers offering tools and concepts from a mix of disciplines, with biology, design, philosophy, sociology, and artistic research as the main fields.

We imagine socio-ecologically sustainable futures, focused on the place we are. We invite special guests to inspire and challenge us.

Each day is a mix of workshops, talks, and fieldwork. At the end of the four days, everyone will have produced an intervention that helps to explore ecologies and make them visible.

The summer school will take place at and from Øresundskollegiet on Amager. We offer up to 20 young (in age or at heart) participants an initiation into becoming Local Pollinators. Participation is free of charge (you pay your own food, though) - you just apply to secure your seat.

The 'exam' will be a locally based change process and will lead to the Local Pollinator diploma.

Day 1 (21/9)- Making Sense

We will explore our interest and our living environment within the field of urban sustainability through a workshop and fieldwork.

Outcome of day 1 is a new visualisation of the local living ecology, connecting the participants to the critical zone we are in.




14.00 Introduction / Summer School, Each other, and Pollination Kit
14.30 coffee
14.45 Workshop / Finding our Interest - creating our tangible and visual baseline
16.15 snacks
16.30 Field Exploration / Collective Investigation - activating our memories - growing our visual baseline
18.00 dinner and looking at tomorrow


Day 2 (22/9) - Becoming Field Agents

We take the next step in our interaction with local ecologies. We will visit the ITU-AIR lab, learn some new tricks, and practice thinking across species.

Jonas Fritsch will inspire us through reflection on their experiments, tools, and philosophies.

Inspiration-intervention by Ida Dalsgaard Nicolaisen on going one step deeper into working with, for, and inside ecologies to become one with mycelium.

Output of the day is a carrier bag full of memories and traces, and intuitions of how to spread the spores.




13.00 [AT ITU!] Lecture / Demonstrations Sensing the City - multiplying memory - with Jonas Fritsch (AIR LAB, ITU)
14.45 break
15.00 Walkshop / Site Sensitising - reading movements in the critical zone
16.15 arrival to Øresundskollegiet
16.30 Mycelic Movements w/Ida Nicolaisen / Landing on the Ground - rewriting the wall
18.30 dinner and looking at tomorrow

Day 3 (23/9) - Reflecting Urban Nature
After a first session looking at the ways we can use what we experienced the first two days, we continue with a lecture/intervention with
Nikolaj Noel Christensen
on on growing "Naturdannelse" - nature formation, and how we might relate on a more fundamental level to the world we are part of.
We challenge the ways that we might make e.g. lichens or soil relevant to the public.
The output of the day is the first intervention prototype.



14.00 Reflective Exploration / Multispecies Ethnography - How do we listen to the non-humans?
15.15 coffee
15.30 Lecture-intervention / Naturdannelse with Nikolaj Noel Christensen
16.45 snacks
17.00 Workshop / Planning Interventions
18.30 dinner and looking at the rest of the summer school

Day 4 (24/9) - Designing Interventions

The fourth day is all dedicated to creating interventions that collect, express, and share the memory and the relations in local urban ecologies. We will have special guests to help us sharpen our creations.

Outcome of the day: prototypes that can be tested instantly and shown in one of the four sites in September-October.




14.00 Desiging prototypes
15.30 coffee
15.45 Intervention / Adapting prototypes to sites and testing perceptions
17.00 beers

Day 5 (25/9) - Presenting Prototypes

The last day will have special guests to help us sharpen our creations.

Outcome of the day: being ready with the intervention prototypes.

Planning of future interventions, including one on the day after the summer school.

10.00 Suprise morning visit and coffee
10.45 coffee
11.00 Presenting prototypes to our guests and getting feedback
13.30 lunch
14.00 End of the Summer School / Looking ahead - interventions, collaborations, learning pathways

How do I sign up?

To participate in the Summer School,
fill out the survey by clicking here
. NO LONGER OPEN FOR ADMISSIONS!
You will start gently, go through a steep but fun learning curve for five days, and then reach for infinite possibilities of planetary convergence. Through practice-based learning and site-based sensitising methods, the learning process will at the same time be the first steps to more nature-based observations, playing with universal design, and exploring ecological value in the neighbourhood.
We have also created a platform for the Urban Pollinators that anyone may join - find it here:
pollinationacademy.mn.co
For further questions or collaboration write to contact@growing-pathways.com or click contact.
The Pollination Academy - Summer School is supported by Amager Øst Lokaludvalg